What does a Billing and Coding Specialist Do?
Medical billing and coding specialists are responsible for solving insurance billing problems. They're a vital part of the healthcare team as billers, patient account representatives, and staff in medical offices and hospitals.
Manually file claims
Complete common insurance forms
Tracking payments
Streamline billing procedures
What You'll Learn in CBCS Certification Training
The goal of our bootcamp is to equip you with the knowledge and skills you need to start your career as a certified medical billing and coding specialist.
Manual Claims Filing (ICD-10 and CPT)
Inpatient Coding
Medical Terminology
Electronic Patient Health Records
ABOUT THE MEDICAL BILLING & CODING BOOTCAMP

Eligibility Requirements
High School Diploma or GED
Web browser with internet connection
Course registration and payment

Cost & Included Materials
$3,450
Online platform access for self-paced learning
eBook: Elsevier - Health Insurance Today 7th Edition
CBCS exam fee

Student Services
Mentorship from expert coaches
CBCS Certification Exam Prep
1-year post-program access to career coaches
Course Curriculum
Our program consists of four self-paced units that easily fit into your schedule. Within weeks, you'll be able to put your new knowledge and skills into practice.
· · ·
Course 1: Medical Terminology & Anatomy
Course 2: Medical Records & Insurance
Course 3: Claims Submission & Insurance Carriers Claims
Course 4: Claims Management and Inpatient Billing
Course 5: Introduction to Medical Coding
Preparing for the Medical Billing & Coding Certification Exam (CBCS)
After successful completion of our program, you'll be qualified to apply for the nationally-recognized medical billing and coding certification (CBCS) through the National Healthcareer Association's (NHA).
Meet Your Medical Billing & Coding Instructor
Shandrika Howard

Nicole Howard has over 17 years of experience working in the Medical Billing and Coding field. After receiving her Diploma in Medical Insurance and Coding, Nicole became certified as a Billing and Coding Specialist and pursued career advancement by completing her Bachelor's Degree in Business Administration during that time she managed a billing department for a Federally Qualified Health Center for 7 years. Nicole is also a Certified Professional Coder that has been teaching and mentoring upcoming billers and coders since 2015. Nicole has encouraged many students to pursue a career in medical coding and trained them to successfully pass the CPC exam.
WHY CHOOSE HEALTH TECH ACADEMY?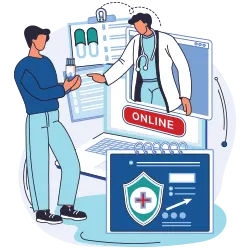 Flexible
Learn on your schedule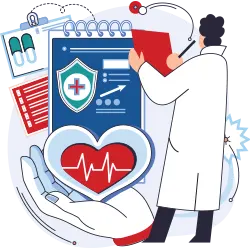 Efficient
Job ready in 16 weeks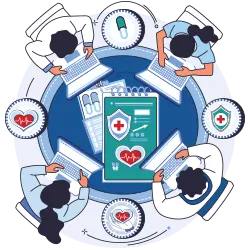 Personalized
1:1 coaching and mentorship to help you succeed
Medical Billing & Coding Certification Comparisons
| | | Community College | Online Colleges |
| --- | --- | --- | --- |
| Program & Tuition Cost | $3,450 | 4,864 on average | $9,600+ |
| Exam Fees, Books & Materials | Included | Additional $250-500 | |
| Certification Exams & Fees | Included | + $100 to $150 | + $100 to $150 |
| Job Ready In | 3-4 months | 1-2 years | 1-2 years |
| Clear Path to Certification | | Sometimes | Sometimes |
| 1-on-1 Career Coaching | | | |
| Schedule Flexibility | | | Varies |
| Travel Requirements | None | Required for in-person courses and labs | None |
| Content Delivery | All online | Varies | All online |
Medical Billing & Coding Training Program FAQs
What do Medical Billing & Coding Specialists (CBCS) do?
Billing and coding specialists are responsible for compiling, processing, and maintaining medical records for hospitals and medical offices. This vital role ensures that medical bills are processed correctly so patients' bills are covered, and clinics receive payment.
What is CBCS certification?
A Certified Billing and Coding Specialist (CBCS) is the nationally recognized certification for medical billers. Most employers prefer, if not require, CBCS certification.
Can anyone take the billing and coding certification exam?
No, there are criteria you must meet to be eligible for the CBCS exam. You must have your high school diploma or GED and you must complete an eligible training program, such as Health Tech Academy's Medical Billing & Coding Bootcamp. Students who complete the program are eligible and well-prepared for the certification exam.
How do I get my CBCS certification?
Upon successful completion of the Medical Billing & Coding Bootcamp, students should apply for the exam provided by the National Healthcareer Association.
What technology do I need to complete Health Tech Academy's medical assistant training program?
Our medical assistant training program is online, so you'll need access to a computer, as well as a reliable internet connection.
How long is the medical billing & coding training program?
Health Tech Academy's medical billing and coding training program is self-paced but designed to be completed over the course of 12 weeks. (That's significantly less than many billing & coding training programs!)
Will the medical assistant bootcamp help me get a job?
Absolutely! Certified medical billing and coding specialists are in high demand and Health Tech Academy's team of career coaches are here to support you through the certification process, resume building, and mock interviews. With our flexible, engaging learning environment, you'll be ready to land a job in a matter of weeks.
How much do medical billing & coding specialists make?
The average annual salary of a medical billing & coding specialist is $45,240. Salaries range based on certification status, experience, and location.
Do I need healthcare experience to start the medical billing & coding training program?
No, you do not need healthcare experience to begin. Our training program is suitable for all learners and will provide you with the knowledge, skills, and career coaching you need to get hired as a medical billing and coding specialist.