Become a Registered Dental Assistant in 16 Weeks
With our immersive online learning environment, you'll be prepared with the professional and technical skills to work alongside dentists and dental hygienists providing care to patients in offices, orthodontic practices, and dental surgery centers. launch your career as a registered dental assistant.
Update and maintain patient's dental records
Educate patients about oral care and procedures
Schedule patient appointments
Collect patient billing and insurance details
Perform administrative tasks
ABOUT THE DENTAL ASSISTANT TRAINING PROGRAM

Eligibility Requirements
High School Diploma or GED
Web browser with internet connection
Course registration and payment

Cost & Included Materials
$3,450
Instructor-led video-based training
eBooks: Elsevier – Modern Dental Assisting, 13th Edition
RDA exam fee

Student Services
Mentorship from expert coaches
RDA Certification Exam Prep
6-month post-program access to career coaches
What Will I Learn?
Our program is divided into 11 digestible courses that easily fit into your schedule, empowering you to complete within weeks.
Course 1: The Dental Assisting Profession
Course 2: Sciences in Dentistry
Course 3: Oral Health and Prevention of Dental Disease
Course 4: Infection Prevention in Dentistry
Course 5: Occupational Health and Safety
Course 7: Foundation of Clinical Dentistry
Course 8: Radiographic Imaging
Course 9: Dental Materials
Course 10: Assisting in Comprehensive Dental Care
Course 11: Dental Administration and Communication Skills
Download the syllabus to view all courses and requirements.
Preparing for the Registered Dental Assistant Certification Exam
Successful completion of our online program and mentorship from our expert coaches prepares you the registered dental assistant (RDA) certification offered by American Medical Technologists (AMT).
Meet Your Dental Assistant Instructor
JOAN BUCHEGER

Joan began her dental career 24 years ago as a Registered Dental Assistant working in various fields. Joan started her career working in General Dentistry, moving on to the specialty of Pediatrics. Joan became enthusiastic about Dentistry and was inspired to further her career by becoming a Registered Dental Hygienist, graduating in 2009 from Western Wisconsin Technical college with a degree in Dental Hygiene of Applied Sciences. Joan is looking forward to using her expertise to help educate the future Dental Assistants with becoming a coach to the incoming class.
Career Prospects for Registered Dental Assistants
The majority of dental assistants work in an office setting. Whether it be a solo, group, or specialty practice, the demand for dental assistants is increasing and Health Tech Academy's dental assistant bootcamp prepares you land a job in this growing industry.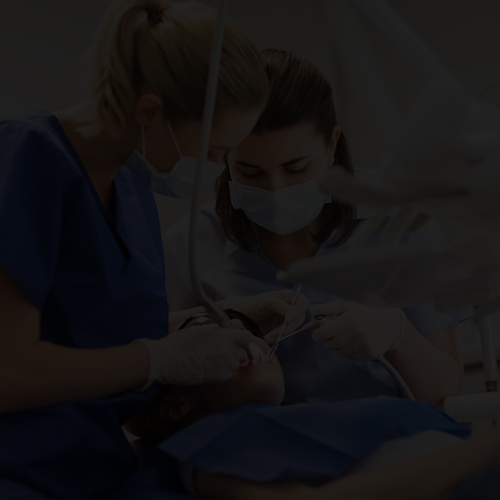 Dental Offices
see more
Dental Offices
Most dental assistants work in dental office, working closely with patients and dentists. Daily tasks for registered dental assistants may include keeping patient records, sterilizing dental instruments, processing x-rays, and instructed patients on proper oral hygiene.
Average Annual Salary: $42,460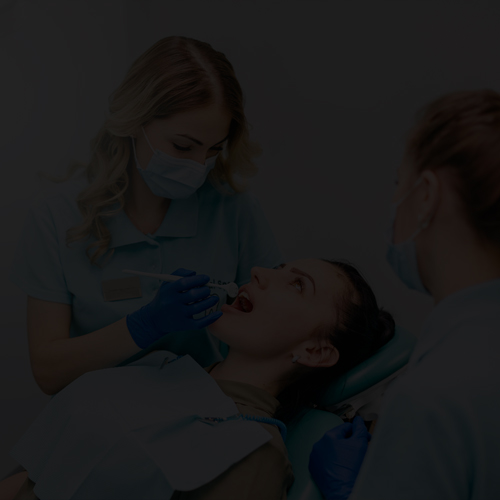 Specialty Practices
see more
Specialty Practices
Specialty practices include oral surgery, orthodontics (straightening teeth with braces), endodontics (root canal treatment), periodontics (gum treatment), prosthodontics (tooth replacement and implants), and pediatric dentistry. Dental assistants support these practices by performing administrative tasks, preparing dental instruments, and advising patients on oral hygiene. Additional training or certification may be necessary.
Average Annual Salary: 42,920
Free Career Assessment
Is dental assistant the right career path for you? Take our free career assessment to determine which healthcare career path is the best fit for you.
WHY CHOOSE HEALTH TECH ACADEMY?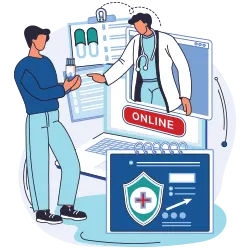 Flexible
Learn on your schedule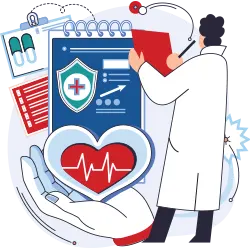 Efficient
Job ready in 16 weeks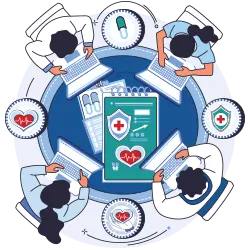 Personalized
1:1 coaching and mentorship to help you succeed
Gain the knowledge and skills you need for a job in healthcare – and the confidence to transform your career.
Dental Assistant Training Program Comparisons
| | | Community College | Online Colleges |
| --- | --- | --- | --- |
| Program & Tuition Cost | $3,450 | $3,000 to $15,000/year | $3,000 to $15,000/year |
| Books, Materials & Fees | Included | + $500 to $2,200 | + $500 to $2,200 |
| Certification Exams & Fees | Included | + $125 to $450 | + $125 to $450 |
| Job Ready Timeline | 4-6 months | 1 to 2 years | 9 months to 2 years |
| 100% Online | | | |
| Schedule Flexibility | | | |
| 1-on-1 Coaching & Mentorship | | | |
| Job Placement Assistance | | | |
| Clear Path to Certification | | | |
| No Travel Requirements | | | |
REGISTERED DENTAL ASSISTANT PROGRAM FAQS
What do Certified Pharmacy Technicians (CPhT) do?
Certified pharmacy technicians work alongside pharmacists to fill and label prescriptions, provide customer service, and perform administrative tasks.
What is a dental assistant?
Dental assistants are professionals who work alongside dentists and dental hygienists to provide dental care. They may also perform administrative tasks to keep the office running smoothly, and are important members of the dental care team.
An RDA is a Registered Dental Assistant. The RDA certification is a national certification issued by
American Medical Technologists.
Health Tech Academy's Registered Dental Assistant Bootcamp students for this certification exam.
How long does it take to become an RDA?
The RDA certification exam is provided by American Medical Technologists (AMT) and accredited by the National Commission for Certifying Agencies (NCCA).
How much do Registered Dental Assistants make?
The average annual salary of a Registered Dental Assistant was
$38,660
in May 2021 according to the U.S. Bureau of Labor Statistics. Actual salary will depend on geographic location, clinical setting, experience, and qualifications. Top earners could make over $58K annually.
How much does dental assistant training cost?
Dental assistant training costs vary depending on the program. Health Tech Academy's Registered Dental Assistant training costs just $3,450—significantly less than many other programs—with payment options to help students fit their education into their budget.
Can you be a dental assistant without a certification?
Yes, you can be a dental assistant without a certification in some states. However, many employers require or prefer certification, and both your career opportunities and earning potential is greater with certification.
How do I get my RDA certification?
After completing Health Tech Academy's Registered Dental Assistant program, you'll be eligible to apply for the registered dental assistant certification exam through the
American Medical Technologists Association.
What are the qualifications for a dental assistant?
Qualifications vary depending on the job. They may include: high school diploma/GED, completion of a dental assisting training program, and RDA certification.
What technology do I need to complete Health Tech Academy's Registered Dental Assistant Bootcamp?
Our Registered Dental Assistant program is online, so you'll need access to a computer, as well as a reliable internet connection.
Do I need dental or healthcare experience to start the Registered Dental Assistant program?
No, you do not need dental or healthcare experience to begin the Registered Dental Assistant program. That's why we're here! Our Registered Dental Assistant program is suitable for all learners.